Latest from videomaker Simon Goltermann
Creating Film Scenes for Apple TV+
This office has been a fun holy ride during the summer of 2021..
Several requests have filled my days under the suffocating sun of June.
Super exciting for a videomaker!
New collaborations for the videomaker
New and exiting experiences, summing moments and collaborations with different companies such as Pause Films Dubai.
Locations: Madrid and Zaragoza
Next stop Madrid and Zaragoza teaming up with Concorde TV AS Norway, Staal Films with Apple TV + series. The client needed me to be in these cities for two days under filming directions for their major client.
48 hours deadline
Travel arrangements need to be optimal as appointments and schedules, so everything is under control for an international crew like us. I know that the unexpected can happen during these 48 hours. Resolutive ideas and positive spirit is a must in my luggage. Even knowing that work is a synonym of control and responsibilities I can't take it for granted.
Livestream with client in Norway
This project embraces a film that right now is under confidentiality terms, still I could say that it took two entire days and two studio setups with livestream Spain – Norway, to film these interviews with several important individuals. Every single of them key pieces of a story based in Spain on 2012. The short fable conveys a moral lesson for human heritage.
I´m super exited to finally enjoy the outcome with you. I'll keep you posted with the future release of this documentary.
A special request and urgent for the videomaker
Early July, morning coffee, still waking up from an uncomfortable heated night. I checked my e-mail and that same morning a special request landed in my inbox. Still with a bold font, the person behind it said :
Hi there.
URGENT REQUEST. I need a videographer to film a very short sequence in a music studio in Marbella. There will be no post editing required. Just filming.
Please advise if you can assist.
Kind regards.
What? Is this a prank, first thought that comes in to me. I gave it a second chance, read it again just in case. Yes, it was no prank, neither a miss understanding.
I new I was free that same afternoon, so I answered with a welcoming YES as I ask for further information. After that I find out that the job of the day enrolled a famous boyband !
Blue.
New Collaborations
Behind this Collaboration many companies are involved Universal Music Japan and Cable Studios Marbella and their manager 25M. The new task was to shoot scenes of Lee Ryan, the famous Blue singer. Their next music video for their 20 year anniversary.
Job was clear: Head shots, scenes from the recording and Ident Promos for Japan.
Watch here some video shots from the studio in Marbella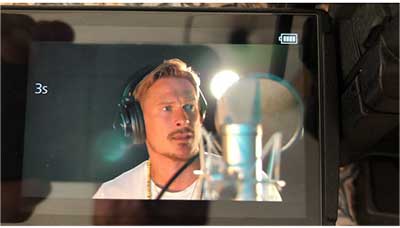 Working as a videomaker
Working as a videomaker requires you to move fast sometimes and to be available in unexpected circumstances, for some might be an inconvenience, in the other hand for me is part of my job and at the same time, shared with my passion.
Next step after the shooting, fast delivery to the clients is key. Universal Music Japan had all raw footage the next day.
Highly recommended studio
A highly recommended studio, Cable Studios, if you are looking to record an album.
Videomaker – Simon Goltermann
Danish-born videomaker Simon Goltermann I´m a nomadic artist, with my heart and soul in Spain. Looking hard for new horizons all over the continent.
I´ve been highly successful producing videos since 2010.